Our Brand Ambassadors 2022


Beatrice Butterworth
I have been riding since the age of 3 years old. I started off my journey showing but dressage has always been my dream. I have competed at 3 internationals with 5 placings in the top five, most recently at Le Mans CDI in France with my Pony Carlsson. I have had Carlsson for four years and he has taken me from novice to international PFEI for GB, including wins at Hickstead and Hartpury premier leagues in 2021 and top 6 placing in the Medium freestyle to music at the British Dressage Winter Championships 2021. This year I will be concentrating on my new ride Non-Plus Ultra, which I have had for 6 months. I was placed in the PFEI individual and music at Keysoe High Profile on Non-Plus Ultra. Initially, Rebecca Bell was my inspiration to me and a great help in the early days with Carlsson. I have recently started training with Peter store to help me with my new ride Non plus Ultra.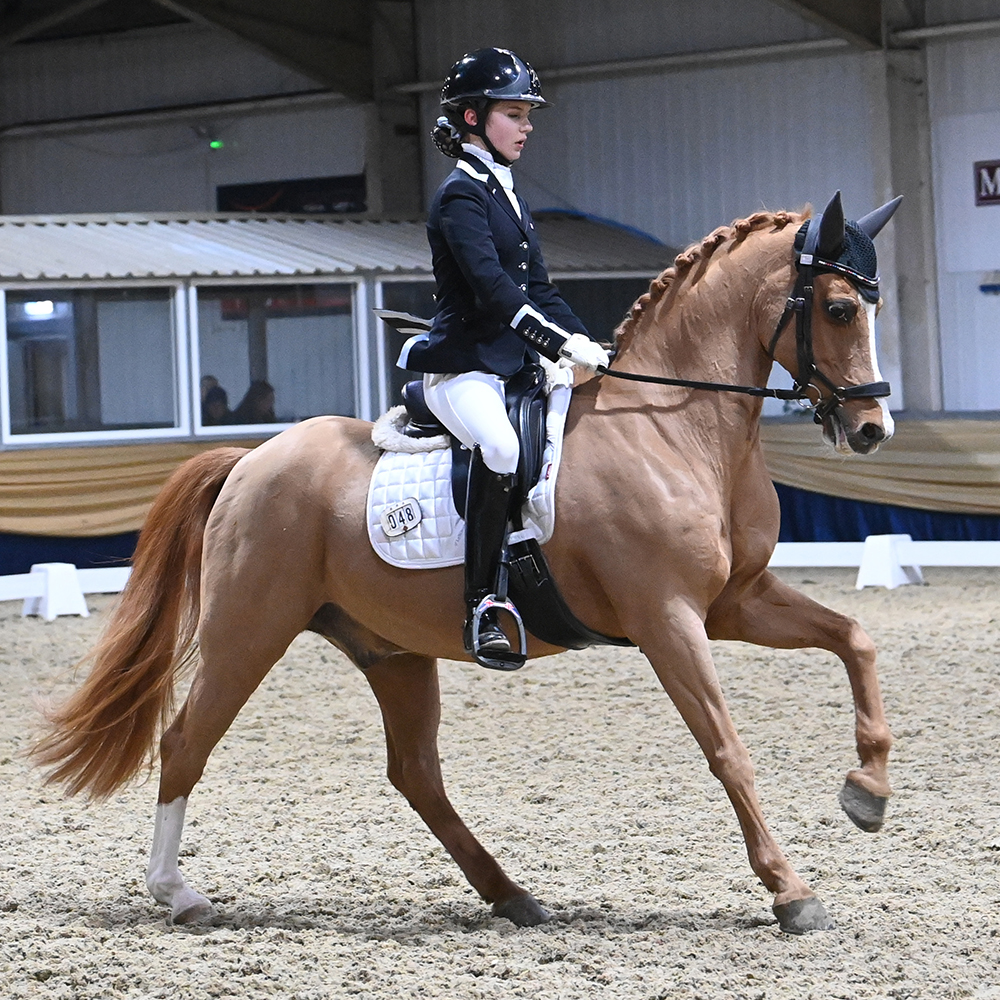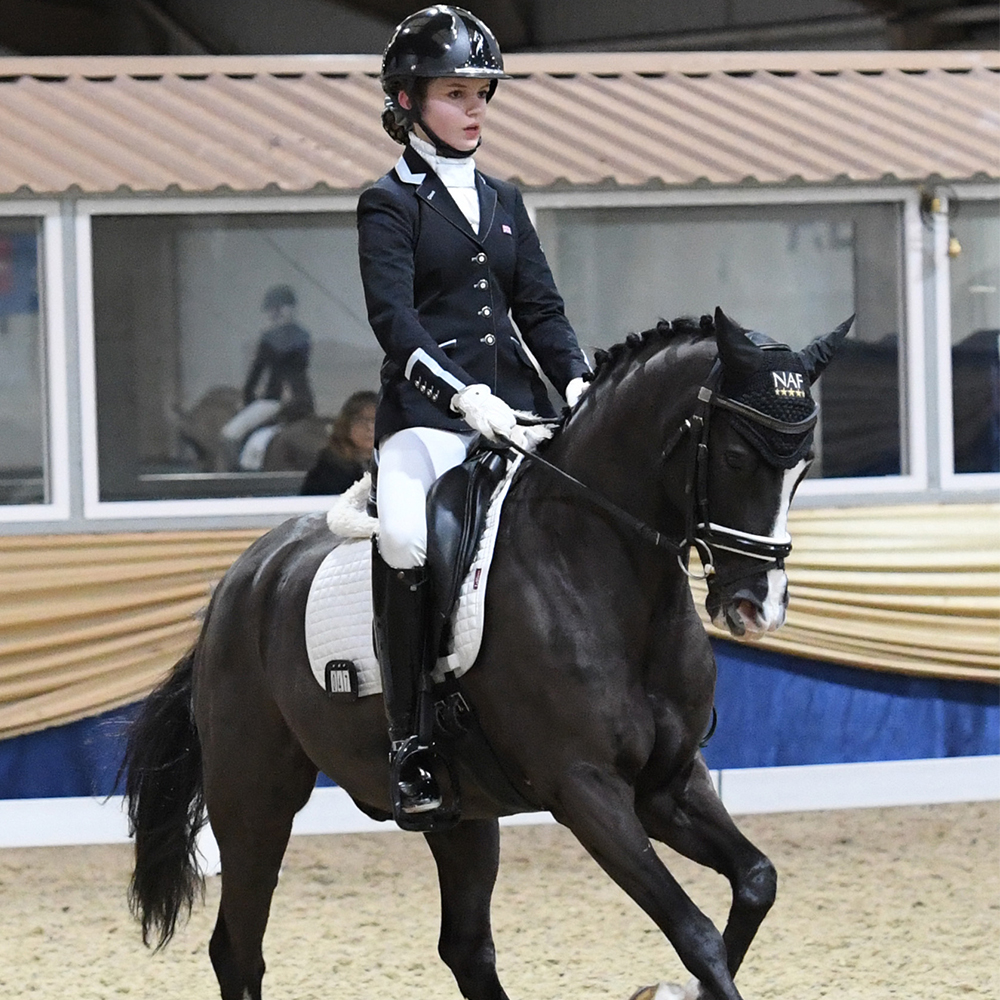 Emily Press
I am 21 years old and live in Sheffield, where I am at university studying Medicine. When I am not working in hospitals, I can always be found in my happy place - with Zara, my Sella Italiano mare who is based with our trainer, Sonia Baines, in nearby Derbyshire. Zara and I are at the beginning of our dressage career together, and after a year of unfortunate setbacks and time off, we are very excited to head back out competing in 2022. Our goals for the upcoming seasons include qualifying for area festivals and regional championships. We are also looking forward to getting more involved with BD youth, and will hopefully get out and represent the Northern region over the summer. Working with Imperial Equestrian over the last year has been a pleasure, they have been our go-to source for all our gear since day one - and I couldn't recommend them more. Can't wait to see what 2022 brings!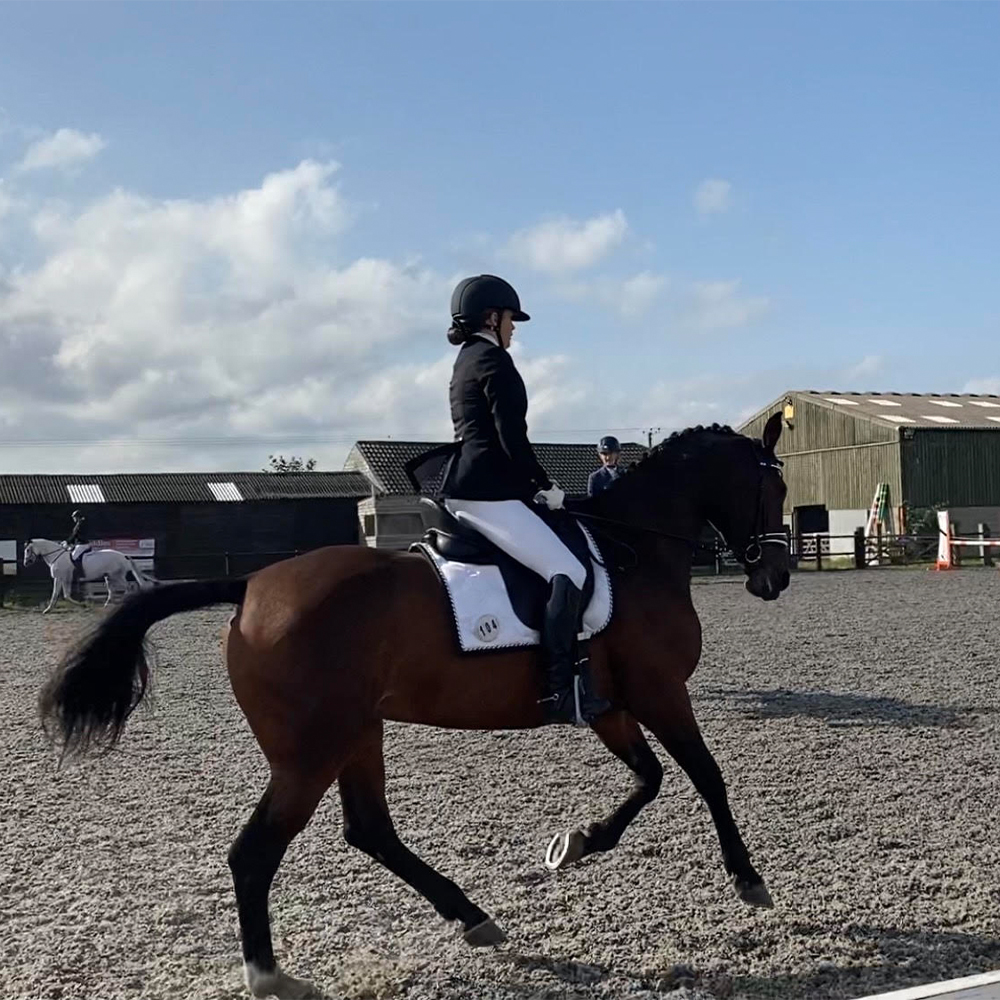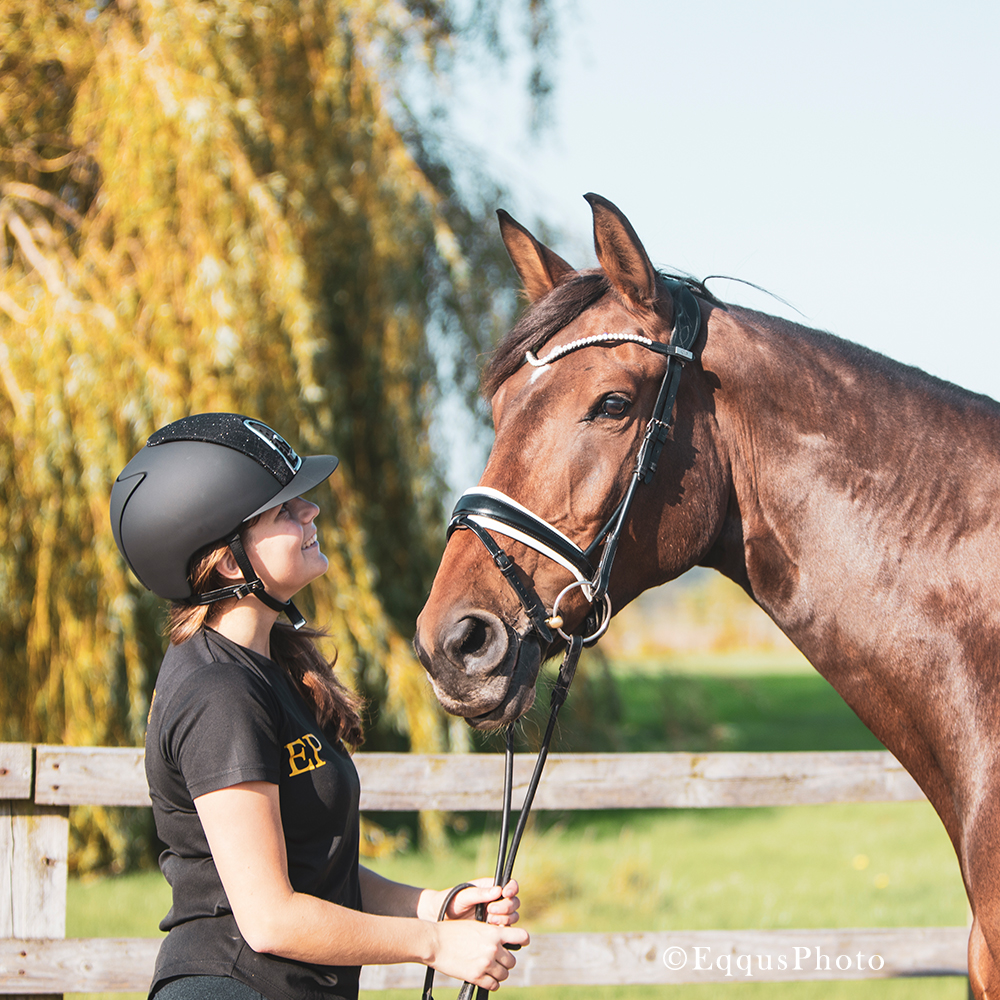 Jade Ellery
I am a 22-year-old dressage rider for Great Britain. I was a member of the Junior European Team in 2017 and was shortlisted for the Young Riders Teams in 2018 and 2019.
I have always had a love for horses and before I got into dressage seriously my passion was having fun on ponies. Riding along the Cornish beaches and doing cross country. When I was younger I wanted to become a vet. looking back at a 10-year-old me, I had no idea that I would ride professionally, let alone represent my country.
My dressage journey started when my family moved to Spain when I was 14 years old. I originally wanted to be a showjumper, however, my mother suggested I try dressage. I instantly fell in love, working with the horse in a more harmonious way ( compared to galloping my pony across the beaches.) It was then when I turned 16 that I wanted to progress and learn more about the dressage world. At 16 I spent a month training in Holland before I got the opportunity aged 17 to go to Wellington for the winter season to compete. I left home and travelled to Florida, which then led to me never really coming home and going straight to Holland with my horses. From that point onwards I knew there was nothing else I would rather do. I have been extremely fortunate to have continuous support from my parents from the beginning when it came to the horses. Without them, I wouldn't have been able to take every opportunity that presented itself to me.
I have been very fortunate to compete for Team GB across Europe and also in Wellington. To be able to do what I love every day and to be able to work with such incredible animals that put their trust in me, makes me feel extremely grateful and humble.
There are numerous people who I look up to in the sport. Not only by the way they ride, train and teach. Also by the way they manage and look after their horses. I have learnt so much when it comes to the management/care of the horse over the years, to me that is more important than being just a good rider. My parents have also had a huge influence on me during my journey with the horses. They have shown me what it means to work hard for what you want, to never give up when it gets tough and many important life lessons that I carry with me every day.
I currently have two horses that I am training and will start competing in the new year, Maximilian a 4-year-old KWPN by Franklin who is very sweet and loveable with a lot of talent. He enjoys hacking out in the countryside and my goal with him is to try and qualify for the Nexgen 5-year-olds in 2022. I am really enjoying the progress in training such a willing young horse and aim to produce him for Grand Prix. My other horse Zeus is a 7-year-old Danish Warmblood by San Amor. Zeus is very sensitive, sweet, extremely tall ( 18h) with heaps of talent. Zeus has a high presence about him. He loves to work for me and always tries his best. My plan is to take him out and start with medium, just to give him confidence before we start to work up the competition levels. My goal with Zeus is the same as Maxi, to enjoy training him up the levels and produce a well schooled Grand Prix horse. I also have Eloy, he is a Hanoverian gelding by Earl.
Eloy is the one who started it all for me. We became a team together when I first went to Wellington in December 2016. Eloy took me to my first international as well as taking me to my first European championship, and over 10 international wins with many other placings. I owe Eloy everything, he is my heart horse. Eloy is now retired, turning 19, however, he still hacks out 2/3 times a week as well as my mother rides him around the school twice a week. He loves being out in the field getting as muddy as possible! Eloy will always stay with me for the retirement he truly deserves.
I am beyond fortunate to be surrounded by a fantastic team of people with a lot of experience. My goal is to be the best I can possibly be and produce my horses to the best of my ability and show off their potential. Mainly I enjoy working with the horses every day and look forward to what the future holds. A dream of mine is to compete at the Olympics one day as well as at the World Equestrian Games.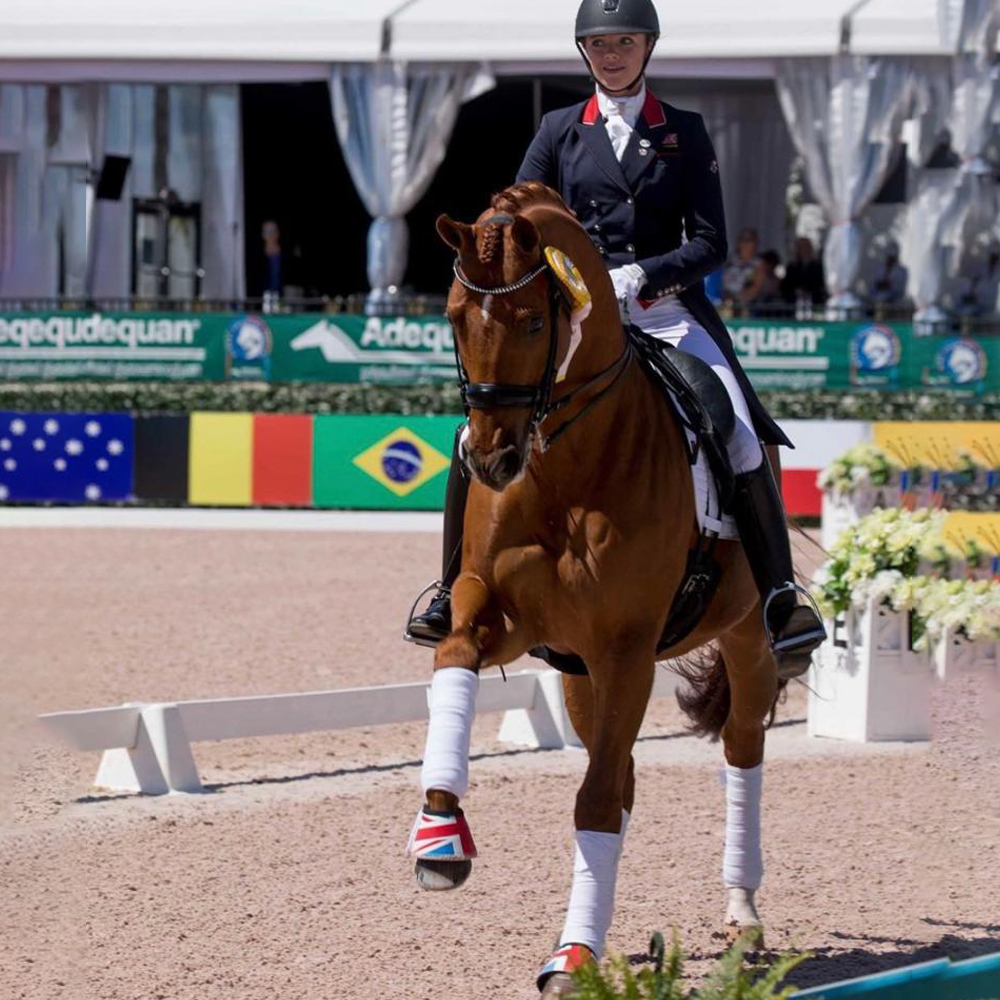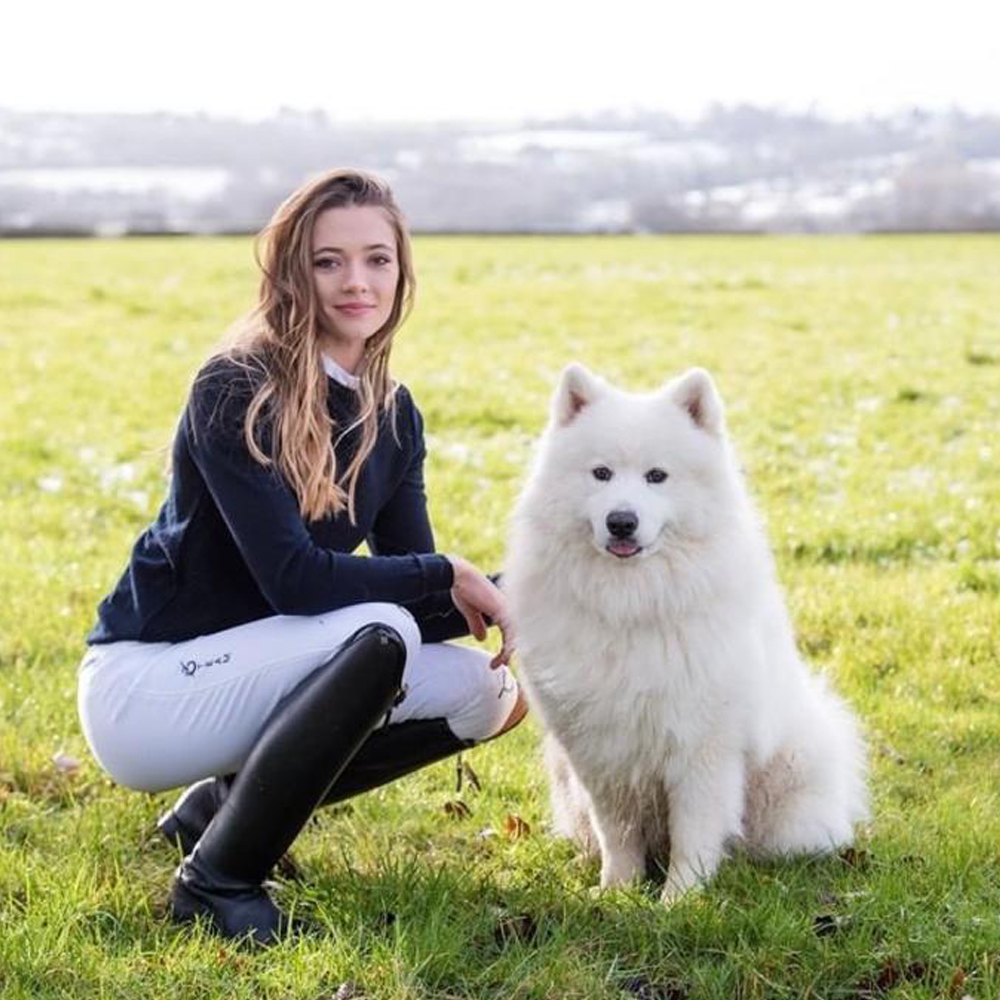 Izzy Chaplin
Izzy is a 25-year-old international Grand Prix dressage rider from Kent. She has represented Great Britain in U25 Grand Prix as well as being the 2019 Intermediate II Petplan National Champion and being part of the BD Young Professional's quadrille who performed at Various internationals around the country from 2018 and 2019 with Vincente II. She currently has a couple of young homebred horses including Monaco C (Tiggy), a 4-year-old KWPN chestnut mare by Everdale and Ottowa C (Otto), a 2-year-old KWPN bay colt by Franklin. "I am honoured to be part of the Imperial Equestrian brand and looking forward to an exciting 2022 with some young horses." Izzy works full time as an accountant.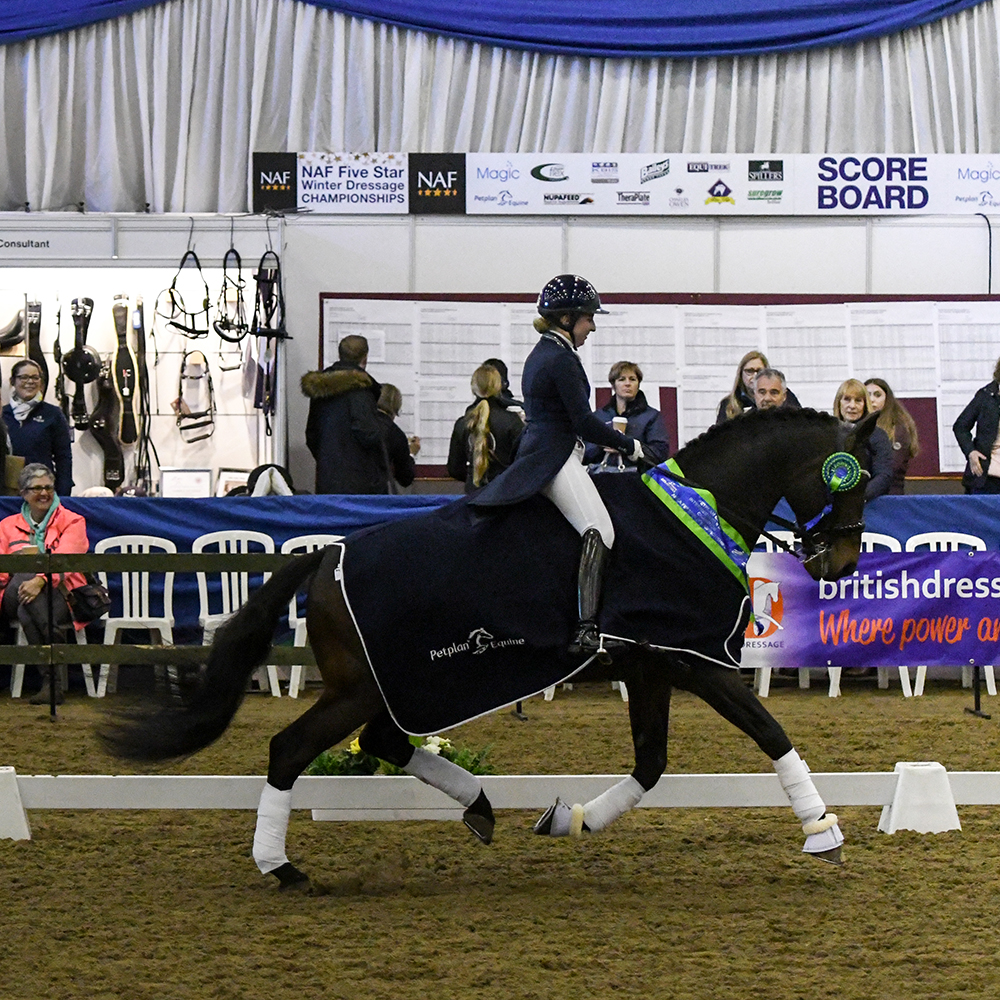 Juliette Lindsay
I am a 20-year old dressage rider.
From 2019-to 2021 I represented Great Britain at Junior's and young riders level internationally on two previous rides, Prince May the First, and Highcliffe Apollo.
However, I began studying Veterinary Medicine at University in September 2020, and despite continuing to compete on the international circuit for a year, balancing both my dressage and my studies became increasingly difficult, so I made the decision to step back from youth squads, and concentrate on bringing on a youngster with the view to train to Grand Prix.
This leads me to introduce you to my current horse, Magic. Magic is a 4-year-old gelding by Indian rock out of a Flemmingh mare, who has all the qualities that we hope should make an amazing GradPrix horse! We are still a very new partnership but Magic has such a lovely temperament and our connection is developing with every ride!
Our aim for 2022 is to show Magic the world and qualify for the 5-year-old young horse classes.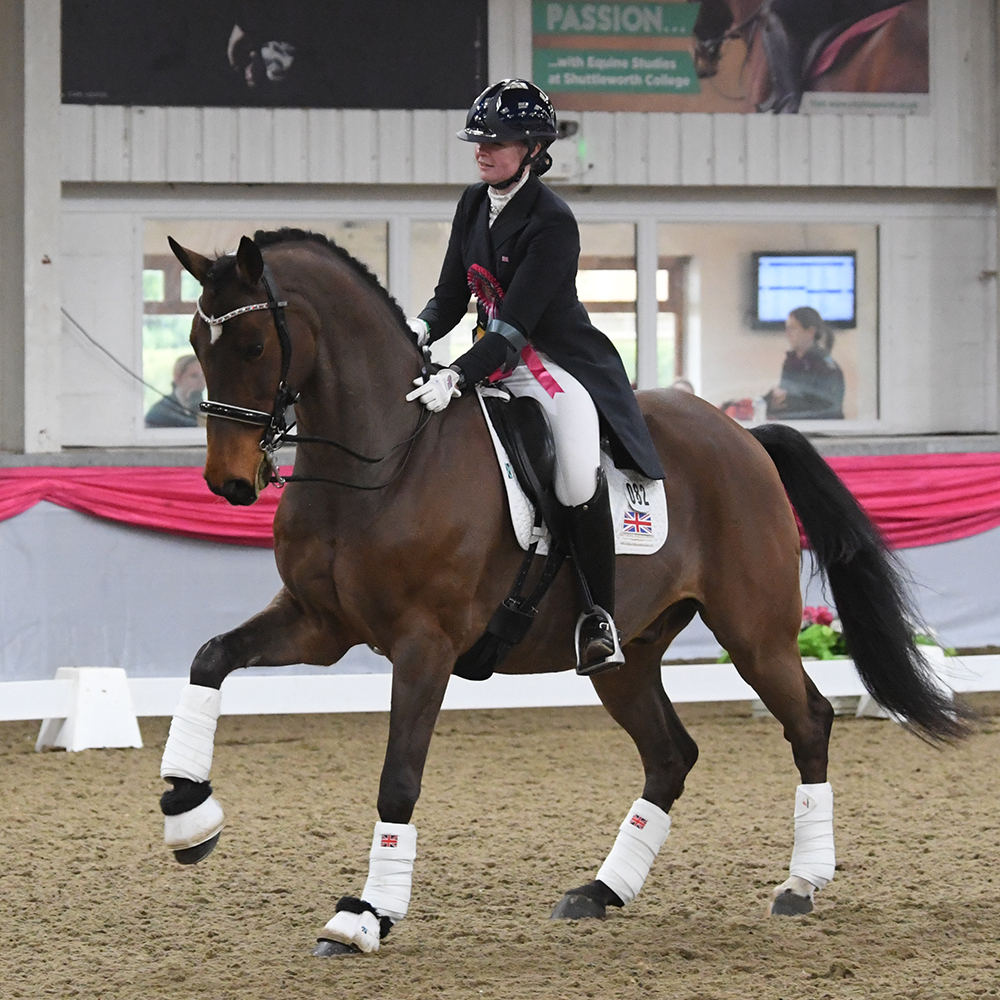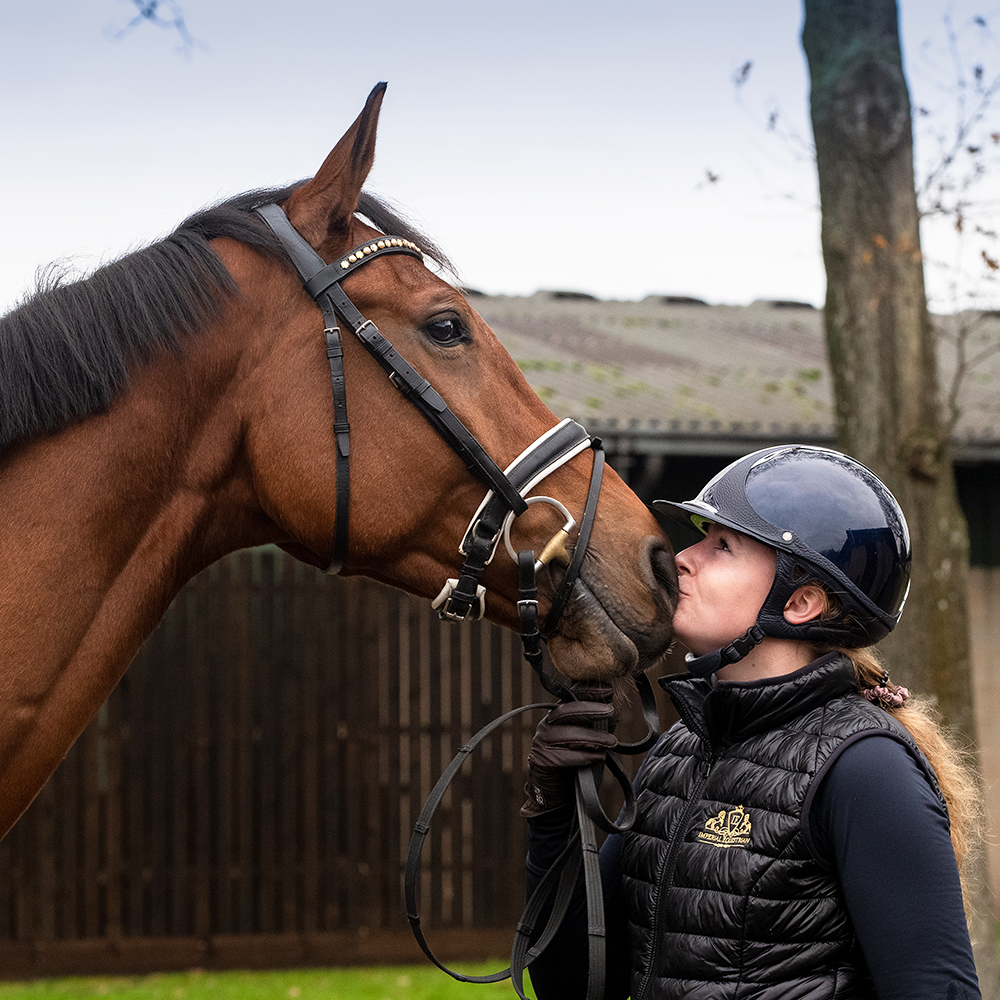 Elisabeth Hart
I'm Libby and I'm 15 years old and my discipline is dressage. I once wanted to be a showjumper until I hit the moment where I didn't want to jump more than 80cm so that was that!
I have been learning classical riding now since I was about 8 and my first pony, a little dressage pony called Amie started me on my path. Now a few years after having leased, loaned and owned some wonderful ponies I find myself in my last year on them and hoping for a coveted place on the GB squad riding pony FEI which is the equivalent to Medium.
Two years ago we went off to Belgium to buy our own dressage pony after loaning and leasing and the very talented and opinionated Jet came to live with us as a rising 5-year-old. unfortunately Jet decide he wanted to be a showjumping pony and didn't like circles much so he's now on lease to an up and coming young showjumper.
I was blessed to have the ride for a little while on GB pony Le Cheiffe ( Peanut) but he went back to his owners last year leaving me pony-less. I really thought that was it for me with ponies and then the wonderful Joey came along. He wasn't actually for sale but I made a cheeky request to his owners, I mean if you don't ask you don't get right? And they agreed to sell him to us, so my pony career is very much back on track! Joey is by the prolific pony stallion champion De Luxe who has produced many FEI ponies on the international stage so we have high hopes!
The people who inspire me aren't the usual suspects ( the Charlotte's and carl's of this world who I still admire very much) but other youth riders like me who have achieved amazing success. Annabella Pidgley has been a total inspiration from her time on ponies to now, with amazing Junior success and also Isobel Lickly who also achieve so much success on her ponies and both have been so kind and supportive towards me over the years. And of course all of the other pony riders in the UK, Bea Butterworth, Sofia Games and Rose foley to name a few who have all worked so hard and are such amazing riders. Unlikely heroes perhaps but you can't help but be inspired by what they've achieved and so young.
Our plan for this year is to work to secure scores to submit to the GB selectors for International competitions where it would be an honour to represent Great Britain at pony dressage.
When I'm not riding I'm focused on my school work and I am in my first year of GCSE's where eventually I hope to read Law and use it somewhere in the equine industry working on high values contracts for sports horses.
I am so excited to be supported by Imperial Equestrian this year. It's a brand I've been following and admired for some time now so I was super excited when I heard they were looking for new ambassadors but never in my wildest imagination did I think I would land it! I have lots of Innovative and fun ideas that I hope to bring to the team and cannot wait to get cracking!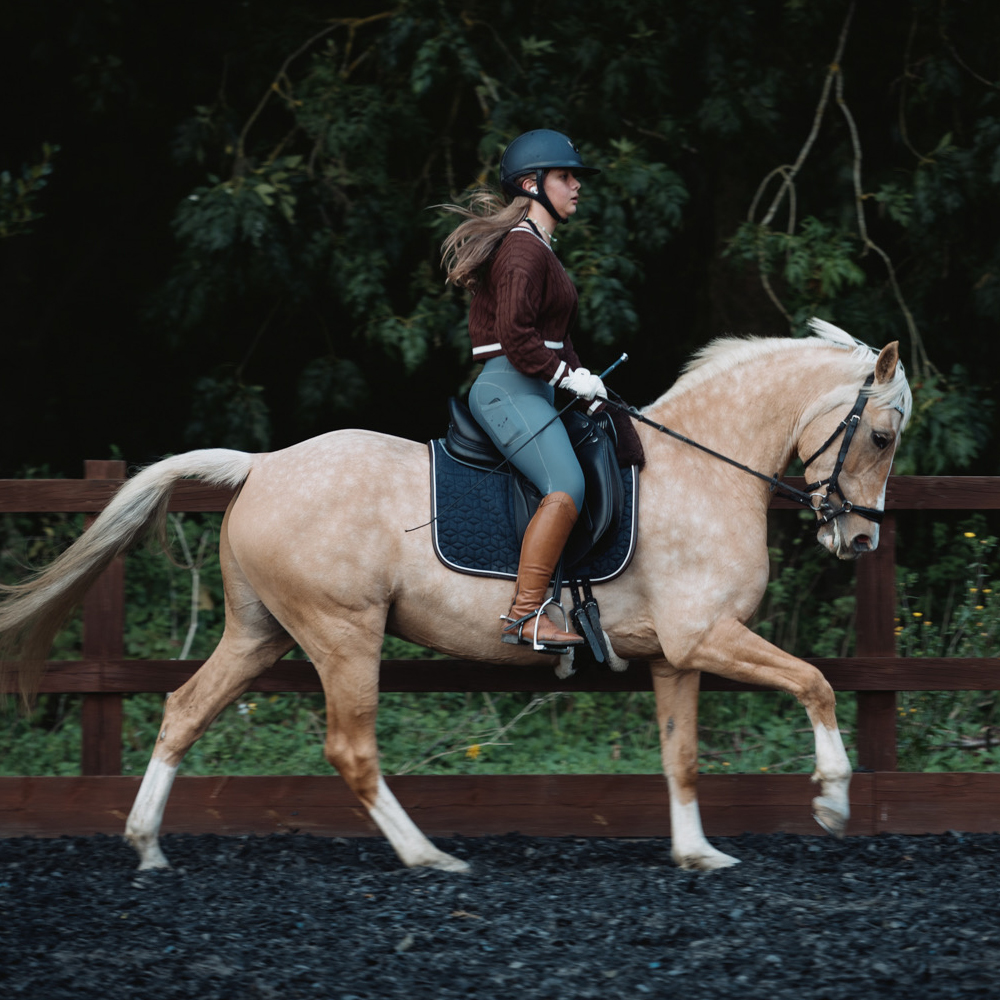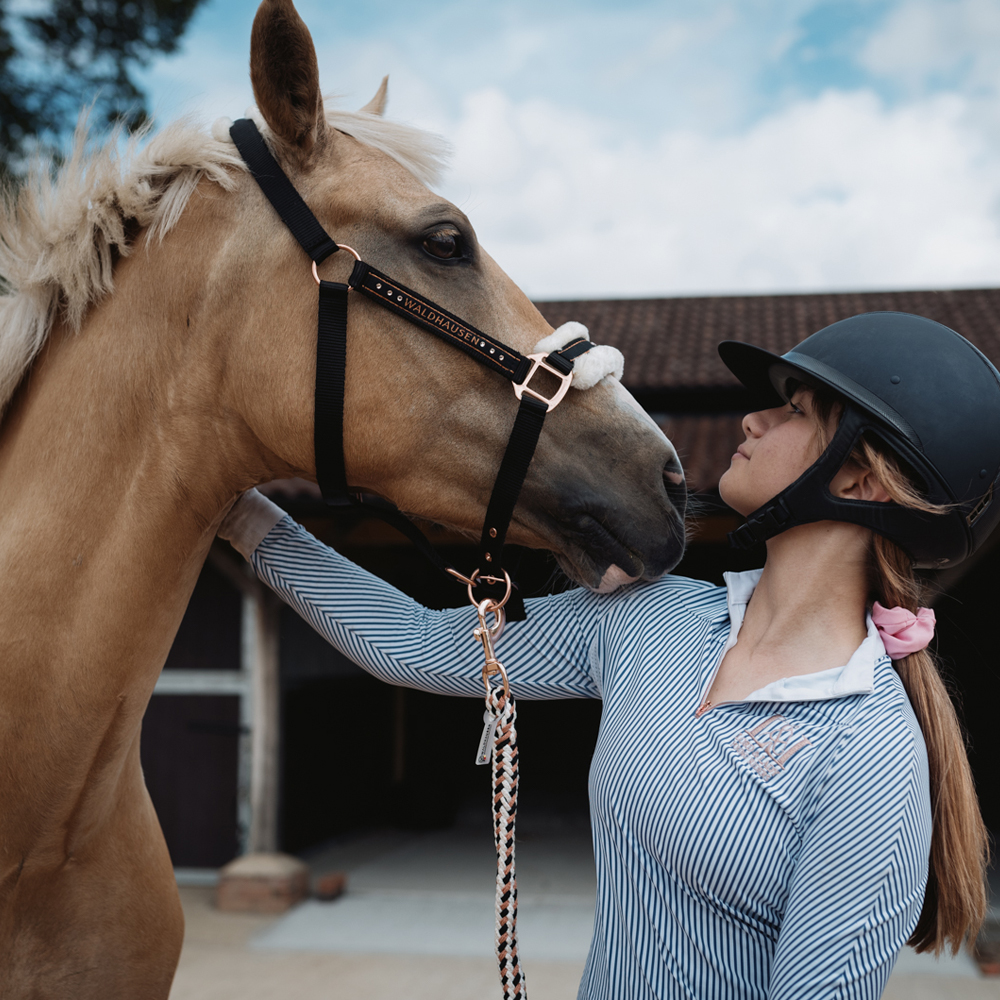 Amy Schiessl
My journey began with horses when I was 3 years old and knew from then that's what I always wanted to do. When I was 18 years old I moved from Jersey to the UK, with two horses to work for Nicky Barrett. Training with Nicky has been, and continues to be highly influential to me and is the main reason for most of my success. In 2016, I was selected for the u21's European dressage Championship in Valencia, with Mr Mercury which we had originally bought as a hunter. We finished top of the Brits on the team day which exceeded all expectations.
In 2018 I decided to take the plunge and set up my own training yard and am now based in Wiltshire.
In 2019 I retired Mr mercury from the International Grand Prix, which then made room for lots of exciting young horses, some of which I have bred.
One of my exciting young horses is MFS Cindy's Utopia ( aka Dory), together we won some 5-year-old classes and she is looking like a super prospect for the future.
Another is a 4-year-old Fatboy Slim ( aka Norman), I am very excited about him as he is homebred. I am incredibly lucky to have some great horses and owners. I'm so looking forward to being part of the Imperial Equestrian Team and think 2022 will be an exciting year!