PS of Sweden Double Bridle Paragon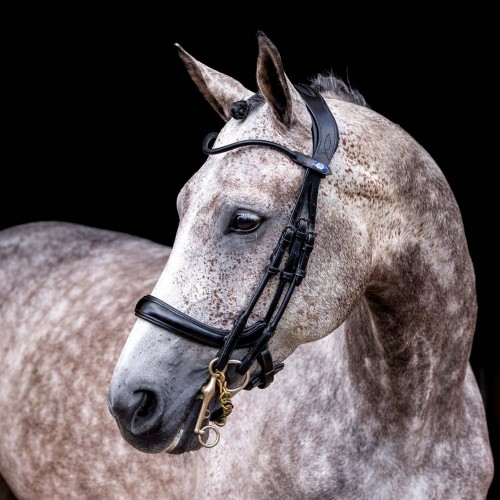 PS of Sweden Double Black leather Bridle Paragon
A double bridle which is designed for extra mouth freedom. This bridle has been designed by dressage rider Nina Hofmann and PS of Sweden to allow the same freedom inside the mouth and around the sensitive cheekbones as the snaffle bridle Jump off does. the noseband is made to enhance the horse's mouth movement, the pullback strap is attached further up the noseband to prevent pressure on the sensitive cheek and teeth area. The noseband is softly padded.
The headpiece is shaped and wide in the centre with soft padding and pressure relief. The cheekpieces are rolled leather and come with the patent-pending cradles which allow the bit to be suspended slightly and thus relieve the pressure on the poll area.
The beautifully rolled leather browband comes with the unique click it system on either end, allowing the browband to be removed without undoing the bridle. Ideal if a crystal browband is also purchased for those special days!
PS of Sweden do not come with a throatlash, this can be purchased separately if requires.