PS of Sweden Monogram Emerald green Dressage Saddle Pad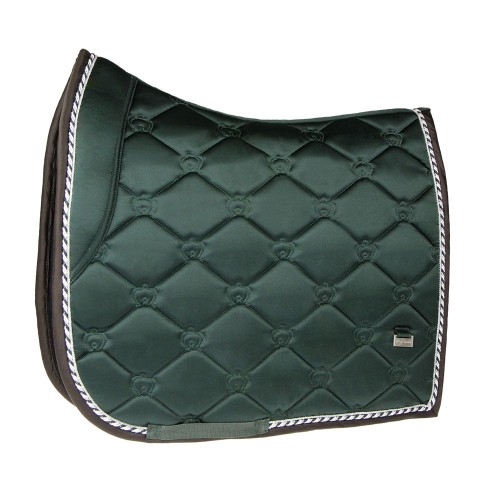 PS of Sweden Monogram Emerald green Dressage Saddle Pad


Deep Emerald green dressage saddlecloth is shiny, dirt-repellent and breathable material with PS crown logo patterned quilt. Quick-dried, anti-fungal and antimicrobial material on the inside to efficiently wick away moisture and keep the saddle pad fresh.
Double piping, one single in silver and one twisted with silver, silver and light brown. The binding is in deep brown and the stylish PS badge in brushed silver is placed on the left side.
Matching fleece bandages can be purchased separately to complete the look.
The saddle pad has an anatomically shaped top line to avoid pressure on the withers, stop cushions, and a girth strap to keep the saddle pad in place to avoid friction during the entire ride.
Wash with similar colours at 30° c. Make sure to pull the saddle pad when hanging to dry to prevent it from shrinking and to retain the shape when it's wet.